Tianjin is a good choice as a travel destination. With its cool sea breeze and fresh sea air you will definitely feel refreshed. Historical relics, natural scenery, temples, churches, assembly halls and commemorative sites of the Chinese revolution will illuminate the city's past, present and future, and give visitors a lot of things to do. The city is honored as a 'Building Museum' as it was occupied by nine foreign imperial powers before, leaving behind many buildings with extraordinary and exotic architectural styles, a real feast for the eye!
Guwenjua Jie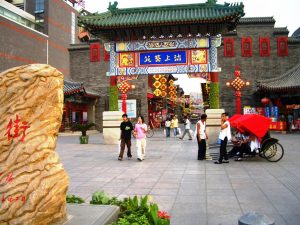 Ancient Cultural Street, Guwenhua Jie in Chinese, is located in the Nankai District of the Tianjin Municipality and was formally opened in 1986. It is located on the west bank of the Haihe River, with the Temple of the Queen of Heaven (Tianhou Palace) as its geographical center. Ancient Cultural Street begins from Gongbei Avenue in the north, and ends at Gongnan Avenue in the south, being 750 yards (687 meters) long and 16 feet (5 meters) wide. Although essentially a business street, it attracts visitors who come to see its special architectural styles, admire its classic cultural features, buy various folk crafts, and sample the delicious local snacks. Above all, as visitors take a walk there, they will be particularly impressed by the splendid replica classical architecture in the folk style of the Qing Dynasty (1644-1911).
Tianjin Radio and Television Tower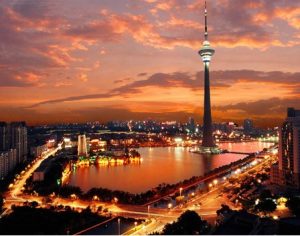 Located in Tianta Lake in the southwestern Tianjin urban district, Tianjin Radio and Television Tower is one of the top ten attractions in the city. It is also called "Tianta Xuanyun" (swirling cloud over the heavenly tower). Measuring 1,362 feet (415 meters) tall, it is the fourth tallest TV tower in the world after Toronto TV Tower, Moscow TV Tower and the Shanghai Oriental Pearl TV Tower.
Like a long sword piercing into the sky, Tianjin Radio and Television Tower presents a majestic and marvelous view. It is made up of the base, pedestal and the body of the tower, turret and antenna. It broadcasts several television and radio programs at the same time. Outdoor observation deck and revolving restaurant can be found at the tower's 814 to 912 feet (248 – 278 meters) height. While appreciating their food, visitors can enjoy a superb panorama extending for several miles in the revolving restaurant which turns 360 degrees every 45 minutes.
Huangyaguan Great Wall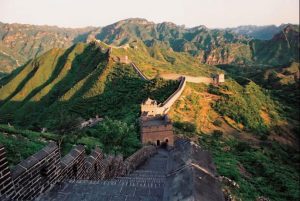 Huangyaguan is considered to be a miniature of the Great Wall of China. In this section, you can find the stone base built in the Northern Qi Dynasty (550 – 557) and the brick battlements laid in the 
Ming Dynasty
 (1368 – 1644). Watchtowers there are either solid or hollow, and have different shapes, including round ones and square ones. Outside, you may see independent outposts a few meters away from each other; inside, there are also ramparts to reinforce the defense system.
Tianjin Eye