Yi-Bing Lin, Ph.D., AAAS Fellow, ACM Fellow, IEEE Fellow, and IET Fellow.
Vice President of National Chiao Tung University, Taiwan.
Title: IoT Applications on Campus: The IoTtalk Approach
Biography
Yi-Bing Lin received his Bachelor's degree from National Cheng Kung University, Taiwan, in 1983, and his Ph.D. from the University of Washington, USA, in 1990. From 1990 to 1995 he was a Research Scientist with Bellcore (Telcordia). He then joined the National Chiao Tung University (NCTU) in Taiwan, where he remains. In 2011, Lin became the Vice President of NCTU. Since 2014, Lin has been appointed as the Deputy Minister of Ministry of Science and Technology, Taiwan. After 2016, he becomes a lifetime Chair Professor of NCTU.
Lin is also an Adjunct Research Fellow, Institute of Information Science, Academia Sinica, Research Center for Information Technology Innovation, Academia Sinica, and a member of board of directors, Chunghwa Telecom. He serves on the editorial boards of IEEE Trans. on Vehicular Technology. He is General or Program Chair for prestigious conferences including ACM MobiCom 2002. He is Guest Editor for several journals including IEEE Transactions on Computers. Lin is the author of the books Wireless and Mobile Network Architecture (Wiley, 2001), Wireless and Mobile All-IP Networks (John Wiley,2005), and Charging for Mobile All-IP Telecommunications (Wiley, 2008). Lin received numerous research awards including 2005 NSC Distinguished Researcher, 2006 Academic Award of Ministry of Education and 2008 Award for Outstanding contributions in Science and Technology, Executive Yuen, 2011 National Chair Award, and TWAS Prize in Engineering Sciences, 2011 (The World Academy of Sciences). He is in the advisory boards or the review boards of various government organizations including Ministry of Economic Affairs, Ministry of Education, and Ministry of Transportation and Communications. Lin is AAAS Fellow, ACM Fellow, IEEE Fellow, and IET Fellow.
Abstract
The National Chiao Tung University is deploying several location-based IoT applications on campus based on an IoT device management platform called IoTtalk. The applications include dog tracking, emergency buttons, and indoor/outdoor environment conditions monitoring (PM2.5, temperature, CO2, and so on). Some of the IoT devices for these applications have simple hardware structures to save energy, and therefore are not equipped with the positioning sensors (e.g., GPS or iBeacon). To support mobility management for these simple IoT devices, we develop a location finding mechanism in IoTtalk. By introducing the locator device in IoTtalk, we can effectively support mobility management for simple IoT devices that does not have location positioning capability. We describe how to develop the device applications to accommodate the location update feature, and show how to configure the location finding mechanism through the IoTtalk GUI. Then we conduct analytic analysis and simulation to investigate the accuracy of location tracking and power consumption for the dog tracking application.
---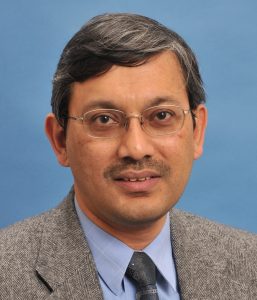 Mohammed Atiquzzaman, Ph.D.
Edith J. Kinney Gaylord Presidential Professor,
School of Computer Science
University of Oklahoma
Norman, OK 73019
[email protected]
Title: IP-based Data Communications with Space: Protocols and Mobility Management
Biography
Mohammed Atiquzzaman (Senior Member, IEEE) obtained his M.S. and Ph.D. in Electrical Engineering and Electronics from the University of Manchester (UK) in 1984 and 1987, respectively.  He currently holds the Edith J Kinney Gaylord Presidential professorship in the School of Computer Science at the University of Oklahoma.
Dr. Atiquzzaman is the Editor-in-Chief of Journal of Networks and Computer Applications, the founding Editor-in-Chief of Vehicular Communications, and serves/served on the editorial boards of many journals including IEEE Communications Magazine, Real-Time Imaging Journal, International Journal of Communication Networks and Distributed Systems and Journal of Sensor Networks and International Journal of Communication Systems. He co-chaired the IEEE High-Performance Switching and Routing Symposium (2003, 2011), IEEE Globecom and ICC (2014, 2012, 2010, 2009, 2007, 2006), IEEE VTC (2013)  and the SPIE Quality of Service over Next Generation Data Networks conferences (2001, 2002, 2003). He was the panels co-chair of INFOCOM'05, and is/has been in the program committee of many conferences such as INFOCOM, Globecom, ICCCN, ICCIT, Local Computer Networks, and serves on the review panels at the National Science Foundation. He is the current Chair of IEEE Communication Society Technical Committee on Communications Switching and Routing.
Dr. Atiquzzaman received the 2018 Satellite and Space Communications Technical Recognition Award (IEEE) for "valuable contributions to the Satellite and Space Communications scientific community", the 2017 Distinguished Technical Achievement Award (IEEE), for "outstanding technical contributions and services in the area of communications switching and routing". He was honored with the IEEE Communication Society's Fred W. Ellersick Prize and NASA Group Achievement Award for "outstanding work to further NASA Glenn Research Center's effort in the area of Advanced Communications/Air Traffic Management's Fiber Optic Signal Distribution for Aeronautical Communications" project. He is the co-author of the book "Performance of TCP/IP over ATM networks" and has over 300 refereed publications, available at www.cs.ou.edu/~atiq.
His current research interests are in areas of transport protocols, wireless and mobile networks, ad hoc networks, satellite networks, power-aware networking, and optical communications. His research has been funded by National Science Foundation (NSF), National Aeronautics and Space Administration (NASA), and U.S. Air Force, Cisco, and Honeywell.
Abstract
Data communications between Earth and spacecrafts, such as satellites, have traditionally been carried out through dedicated links. Shared links using Internet Protocol-based communication offers a number of advantages over dedicated links. The movement of spacecrafts, however, gives rise to mobility management issues.
This talk will discuss various mobility management solutions for extending the Internet connection to spacecrafts.  The talk with providing an overview of the network layer based solution being developed by the Internet Engineering Task Force and compare with the transport layer based solution that has been developed at the University of Oklahoma in conjunction with the National Aeronautics and Space Administration. Network in motion is an extension of the host mobility protocols for managing the mobility of networks which are in motion, such as those in airplanes and trains. The application of networks in motion will be illustrated for both terrestrial and space environment along with security issues related to mobility management schemes.
---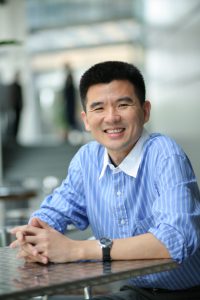 Tony Q.S. Quek, IEEE Fellow
Associate Professor and Acting Head of ISTD Pillar
Singapore University of Technology and Design
Title: Towards Connectivity and Intelligence for Future IoT
Biography
Tony Q.S. Quek received the B.E. and M.E. degrees in Electrical and Electronics Engineering from Tokyo Institute of Technology, Tokyo, Japan, respectively. At Massachusetts Institute of Technology (MIT), Cambridge, MA, he earned the Ph.D. in Electrical Engineering and Computer Science. Currently, he is a tenured Associate Professor with the Singapore University of Technology and Design (SUTD). He also serves as the Acting Head of ISTD Pillar and the Deputy Director of SUTD-ZJU IDEA. His current research topics include wireless communications and networking, security, big data processing, network intelligence, and IoT.
Dr. Quek has been actively involved in organizing and chairing sessions and has served as a TPC member in numerous international conferences. He is currently an elected member of the IEEE Signal Processing Society SPCOM Technical Committee. He was an Executive Editorial Committee Member of the IEEE Transactions on Wireless Communications, an Editor of the IEEE Transactions on Communications, and an Editor of the IEEE Wireless Communications Letters. He is a co-author of the book "Small Cell Networks: Deployment, PHY Techniques, and Resource Allocation" published by Cambridge University Press in 2013 and the book "Cloud Radio Access Networks: Principles, Technologies, and Applications" by Cambridge University Press in 2016.
Dr. Quek received the 2008 Philip Yeo Prize for Outstanding Achievement in Research, the IEEE Globecom 2010 Best Paper Award, the 2012 IEEE William R. Bennett Prize, the 2016 IEEE Signal Processing Society Young Author Best Paper Award, 2017 CTTC Early Achievement Award, 2017 IEEE ComSoc AP Outstanding Paper Award, and 2017 Clarivate Analytics Highly Cited Researcher. He is a Distinguished Lecturer of the IEEE Communications Society and a Fellow of IEEE.
Abstract
By wirelessly connecting billions of devices such as sensors, vehicles, and machines, the ubiquitous connectivity to IoT (Internet-of-Things) will fundamentally change the way we interact with one another and with the physical world. However, the massive connectivity, uneven information payload, severe cost and power constraints, and diverse QoS and service needs of IoT applications pose significant challenges to existing design principles of wireless systems. On the other hand, the recent breakthroughs in artificial intelligence and machine learning, including deep neural networks, the availability of powerful computing platforms and big data are providing us with technologies to perform tasks that once seemed impossible. In the near future, autonomous vehicles and drones, intelligent mobile networks, and intelligent internet-of-things (IoT) will become a norm. In this talk, we will provide an overview of this vision and share some of the technical challenges that our research community needs to tackle. In addition, we will also discuss some of our preliminary work in this direction.